Price
Included inBA-Cube Membership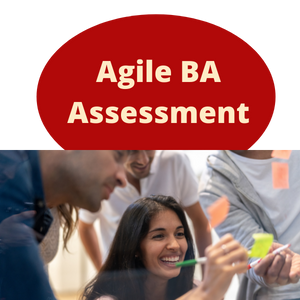 Welcome to the BA-Cube Agile BA Assessment!

Test your Agile BA prowess and see where you can develop even further to advance the value you add to an agile team!!

 

Agile Business Analysis – Is it a myth or a reality? A reality of course! And, it's here to stay! What does it really mean to be an agile BA? Find out! Use this tool to test your knowledge and develop self-awareness about your agile BA capabilities.

The assessment has 48 questions based on 5 categories of agile BA knowledge.  At the end of the assessment, you will receive a score for each category.

The categories are:

Agile BA Role
Agile BA Mindset
Agile Knowledge
Agile User Stories and Related Techniques
Agile BA Working Scenarios

Use the category scores to:

Understand how much agile BA knowledge you currently have
Determine where to focus your agile BA learning, training and skill development
Understand if your agile BA experience aligns with agile BA best practices
Learn more about being an agile BA

Click the "Agile BA Assessment" link below to get started!