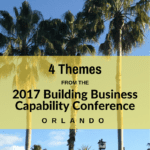 I recently enjoyed several days presenting and participating in the Building Business Capability Conference in Orlando. I am always excited about the themes that come together during these national industry conferences. If you missed it, here's what you need to know:
Put Customer Value Ahead of Business Value. Many sessions included a call for BAs and POs to work "outside in" instead of "inside out." Organizations succeed faster when they focus on delivering value to the customer rather than the organization.
Get Ready for Artificial Intelligence.  All BAs and POs MUST start to understand the capabilities of Robotics, Machine Learning, and AI….or be left in the dust. It's coming fast–faster than any other "trend" we have ever experienced.

Bring Agility to the Business.  Agile isn't just about software! Organizations get more value from agile when business and IT groups work together on agility. Great news for BAs and POs who learn how to facilitate this transformation.

Focus on Outcomes over Outputs. What outcome is the project trying to achieve? Ruthless focus on business outcomes with a eye on the holistic customer experience is the cornerstone of the BA and PO roles!
Need to know how to apply these themes in your organization? I'm here to help, contact me to learn more.