Do you approach your analysis work like concrete or a caterpillar?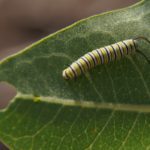 Your mindset matters in all aspects of project life! You can pour information in and let it set like concrete or you can continuously feed it and let it grow and adapt like a caterpillar.
Here's a nature fun fact: In less than two weeks, monarch caterpillars increase their mass by 2000 – 3000 times. And they have to shed their skin 5 times to adapt to the growth.
If we approach our requirements and analysis work with a very-hungry-caterpillar mindset, we would:
actively seek diverse hypotheses
appreciate and encourage experimentation
inspire collaboration and innovation in others
view challenges and failures as learning opportunities
work toward outcomes not output
be happier in our jobs
Ready to a build a team full of BAs, POs and PMs with growth mindsets?​ BA-Cube will help you smash the concrete and feed the caterpillars with live, virtual training, and 24/7 access to 5-minute training videos, downloadable resources and blogs.