The BA Mindset
It is important that those in a business analysis role have a mindset for success! What does this mean?
On many teams, you may be the only one in a BA role, and this means you need to bring a unique mindset compared to the other team members. Otherwise you risk the value you provide to the team. Many BAs get trapped into thinking that they need to think like the other team members and this couldn't be further from the truth. You need to think differently, and that is why you are there! So, while you need to understand the other roles and mindsets, your success hinges on you understanding their perspective and gracefully communicating a different point of view, in order to get the full spectrum of thought for the team to be successful.
Your mindset comes out in many ways, mostly your behaviors:
How you listen
How you reply
The questions you ask
The visual models you create
The way to write up a user story or requirement (different from how someone asked or stated it)
When you don't say something and when you do say something
When you choose to ask question vs. have answers
Your relationships with others
Your body language with others
Your confidence that you are adding value without specific knowledge
One of the biggest and most important mindsets is to understand that your role is to solve user and business problems, not technical problems.  The technical team might be solving a technical problem and your mindset should be, "and how do I make sure this doesn't come a user problem, or it enhances the user experience?"  The BA makes sure the user, customer, and business results are not compromised and improve. What Problem Are You Trying To Solve? Watch this video to further help define the problem you, as a BA, are trying to solve:
I like to think of BA Mindset success in this BA Success Formula, watch this webinar to learn more!
3 Ways To Apply an Agile Mindset to Any Team
In this article we look at some ways to apply the agile mindset to any team!
Read it: 3 Ways To Apply an Agile Mindset to Any Team
Listen:
---
Evolution of the Requirements Mindset!
In this article we look at how requirements practices are evolving!
Read it: Evolution of the Requirements Mindset!
Listen:
---
Here are some downloads for you! 
Open up these downloads to get a clear summary of the BA Mindset from a relationships and success point of view!
This one is about the mindset for building great relationships, Download/View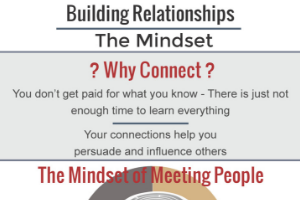 And, this one is about the mindset for analysis success! Download/View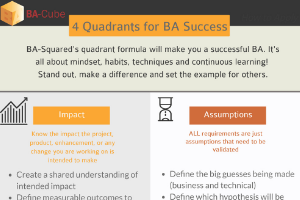 Some key mindsets BAs need to have:
– An end-user/customer point of view when others do not
– An end-to-end view of how a piece of technology or change fits into a much larger value stream for a user or customer
– An understanding and linkage of business value to the details of the product, project, and implementation changes
– A bias for action and learning, experimentation or perfection
– A bias for end-user value over perfect or sophisticated software
– A bias to get user feedback over stuffing more functionality into a process or feature
– A keen interest in impact and changes users may experience
– Empathy for the users and customers
– Your role is not to know everything, but to connect knowledge in others
Ok, let's check your understanding with a quiz!