Welcome to the BA-Cube Catalog!
Here you will find a listing of all of our learning resources included in a BA-Cube membership!  They are listed by the type of learning resoucrse!
BA-Cube.com is THE MOST INNOVATIVE training platform for modern analysis skills today!   Your BA-Cube.com membership gives you access to tons of learning content, curated pathways to help you navigate, and access to our exclusive live events and mentoring to go deeper and apply the learning to your real work!
For BA Managers:  Let us help you by curating content for your team based on your team and practice goals.
Learn in small chunks, a little each week!
You will improve your performance and contributions to your team!
YOU WILL BE A BETTER BA or PO with a BA-Cube.com Membership
Earn IIBA CDU and PDUs!
Go deeper with membership to our Live Events and Mentoring!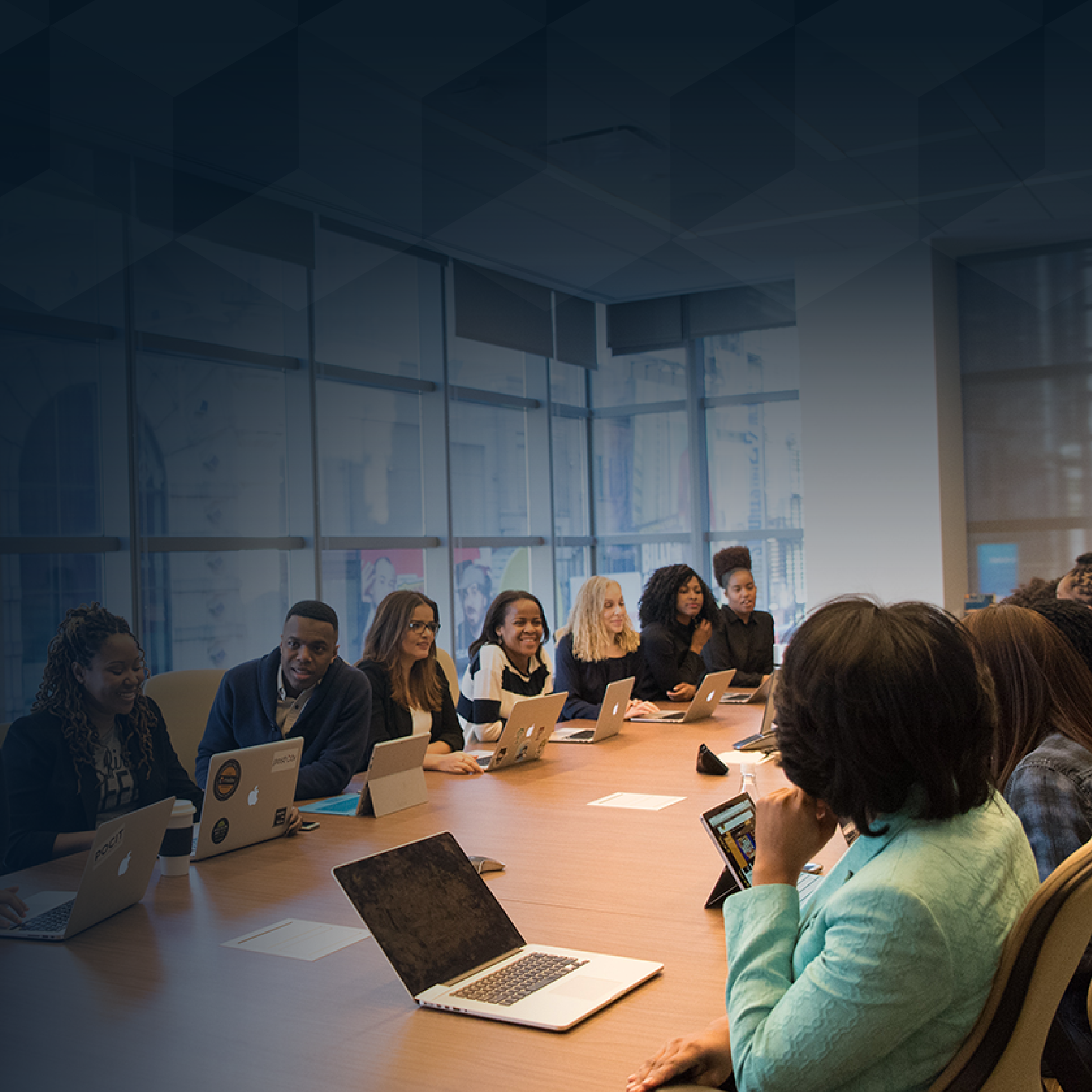 On-Demand Courses
Our On-Demand Courses are a combination of videos, readings, exercises, quizzes, reflections, and practice.  When you add on the Live Events and Mentoring to your membership, you get a chance to get real feedback on your exercises and real project work applying the concepts!
The Ultimate BA Masterclass – Coming Soon!
The ultimate class with 9 Themes (mini classes) with ALL the basics of being a BA.  From the Mindset, to Technical Knowledge, Key Analysis Concepts, Deliverables, How To Ask Good Questions, this course has it ALL!
User Stories – What You Need To Know – Learn all about user stories, the best practices and practice yourself!
Acceptance Criteria – Learn all about user story acceptance criteria, the best practices and practice yourself!
Product Ownership – Product Vision & Road-Mapping – Discover what product vision and road maps can do for agile teams, the role of the PO and how to create them!
Modern Ninja! – This program of courses truly will modernize your skill set, give you practice and if you choose to have mentoring sessions you can get feedback on applying these new skills to your real project work!

User Story Splitting – Learn all about user story splitting, strategies, patterns, and more, then practice yourself!
User Story Mapping – Learn all about user story mapping, strategies, patterns, and more, then practice yourself!
Facilitation – Engaging and Participative Facilitation Skills – Learn modern collaboration and engaging facilitation skills and make your meetings matter!
Visual Analysis Models – Learn 3 of the top visual analysis models (Scope/Context Diagrams, Process Models, and Decision Tables), practice them, and learn how they fit into agile practices.
You 2.0! Transformation Challenge – Who Do You Want To Be?
Assess Your Skills!
Discover where your skill gaps are and then go get the BA-Cube.com content to skill up!
BA & PO Skills Inventory
Determine what skills you have can yet grow!
Agile BA Skills Assessment 
Test out your agile BA skills!  Find out how agile you are!
Pathways
Curated learning Pathways for your specific goals!
Pathway 1: I am a new BA

Pathway 2: I want to learn more about Agile

Pathway 3: I am a BA working on an agile team

Pathway 4: I am a BA Manager – I Need Resources!

Pathway 5: I just became a Product Owner!

Pathway 6: I want to improve my stakeholder management skills

Pathway 7: I want to be a better facilitator in meetings

Pathway 8: I want to learn more visual analysis models

Pathway 9: I want to learn how to write good user stories and acceptance criteria

Pathway 10: I am a BA, and want to up my game (Modern Ninja)

Pathway 11: I am a BA and need to modernize my skills and mindset

Pathway 12: I am an agile BA looking to move into Product Ownership

Pathway 13: I am a Product Owner looking to learn PO skills

Pathway 14: I have a tech background and I need to learn how to be more business and customer focused

Pathway 15: I have experience as a BA and want to grow my leadership skills

5 Min Quick Tip Videos!
Archived Webinars
Over 225 videos to get just what you need when you need it!
Got a challenge? Just search for the right video to solve it!
Agile Business Analysis
Sprint Zero
Use Cases and User Stories
How To Run A User Story Workshop
Facilitating A Remote User Story Workshop
Three Agile BA Myths
BAs and the Cynefin Model
Putting Discovery & Delivery in View
Agile Concepts Overview
Add a Column to Your Board
Agile BA Confidence
Agile BA Status Report
Agile Concepts: Changing Requirements
Agile Concepts: Doing vs Being
Agile Concepts: Limiting WIP
Agile Concepts: Waterfall vs Agile
Agile Metrics
Assessing Agile BAs
Backlog Health Check
Developing A Product Vision
Feedback Loop
IIBA Agile Extension
Increments of Value
Increments of Value Examples
Outcome Canvas
Outcomes & the Future of The BA Role (Part 2)
Product Roadmap Canvas
Product Vision Canvas
Agile Principles and the BA Role
Agile Manifesto Principles Overview
Agile Manifesto Principle #1
Agile Manifesto Principle #2
Agile Manifesto Principle #3
Agile Manifesto Principle #4
Agile Manifesto Principle #5
Agile Manifesto Principle #6
Agile Manifesto Principle #7
Agile Manifesto Principle #8
Agile Manifesto Principle #9
Agile Manifesto Principle #10
Agile Manifesto Principle #11
Agile Manifesto Principle #12
Role of the BA in Agile
The Future of The BA Role (Part 1)
The Jobs To Be Done (JTBD) Theory
The Last Responsible Moment & Cost of Delay
These Are NOT Technical User Stories
User Story Collaboration Canvas
User Story Tips (UST) Overview
UST #1: Put the User at the Center
UST #2: Make the User Action Precise
UST #3: User Stories Need Acceptance Criteria
UST #4: Ask QA If It's Testable
UST #5: Be Collaborative
UST #6: Slice Your Stories
UST #7: Make Them Feedback-able!
UST #8: You Don't Need to Implement Every Story
UST #9: Make the WHY Meaningful
UST #10: Keep Technical Details
Agile Ceremonies for BAs
BA Role in Backlog Refinement
Backlog Refinement
Discover the Backlog Board
Facilitating Effective Sprint Reviews
Get Up, Stand Up!
Improve Your Retrospectives!
Make the Backlog More Transparent
Sprint Planning
Swarm: It's What Mature Agile Teams Do Everyday
The 5 Levels of Planning
Design Thinking
Introduction to Design Thinking
Business Model Canvas
Customer Journey Map
Empathize in Their World
Empathy Mapping
User Hierarchy
Digital BA
Artificial Intelligence & Machine Learning for BAs
Digital BA Overview
AI and Machine Learning
AI Voice, Language and Speech
Biometrics
Block-chain
Competencies
Hypothesize & Experiment Part 1
Hypothesize & Experiment Part 2
Linking It All Together
Robotic Process Automation
Swarm Intelligence
Video and Image AI
Managing Relationships
Do it ALL Now!
Strategizing Stakeholder Communications
Active Listening
Influence – Knowing What Others Care About
Influence – Serving Up Decisions
Influence – Multi-dimensional Decision Making
Influence – Transparency
Change Management & User Impact
Stakeholder Management
Alignment On Assumptions
How To Disagree with Someone
Building Relationships: Know Another's Style
Building Relationships: The Mindset
Creating the "Ah Ha" Moment
It's All About Decision Making
Making Better Decisions
Saying No to Stakeholders
Take a Personal Interest in Your Stakeholders
What to do When You Are Micromanaged
When Collaboration Breaks Down
When Right Is Not Always Right
Data and Reporting Analysis
BA Leadership
Top Performing BAs and POs
Tough Conversations – New!
Assigning the Right BAs to the Right Projects
BA Collaboration & RACI
Breaking Down the BA Center of Excellence
How Do Executive Metrics Map To My Work?
How To Develop Top Performing BAs
How To Implement Best Practices
Interviewing BAs
Qualities of Top Performing BAs
Tracking BA Skills
Types of BA Leaders
Facilitation Strategies and Techniques
Start – Stop – Keep
Presentation Or Discussion
High Velocity Decisions & the 5 Levels of Agreement
Mood Board
Awesome Virtual Meetings
Categories for Categorization
Collaborative Games
Facilitating Great Meetings
Facilitating Great Workshops
Facilitating Workshops: 3-Step Model
Facilitating Workshops: Extroverts and Introverts
Facilitating Workshops: Mood Ring
Facilitating Workshops: Speedboat Technique
Fist of Five
How to End a Remote Meeting
Lean Coffee
Making Meetings More Interesting
Mirror Game
Preparing for a Requirements Workshop
Remote Meeting Models
Thumb Voting
Tips for Virtual Meeting Models
Webinar: Facilitating Engaging Virtual Meetings
What, So What, Now What
Straight Up BA
User Hierarchy
How to Structure Requirements
Transition Requirements
CRUD Matrix
DevOps! What does it mean to BAs and POs?
What Problem Are You Trying To Solve?
The Questions You Are Asking
Pathways – New!
Outcomes and Impact – We Make IT Happen
Business Data Analytics: BA Tips
The Pomodoro Technique
Putting Discovery & Delivery in View
Ethics in Analysis
How To Start On A New Requirement or Request?
Level Up Your Remote Meetings
Reset!
Do You Have Time to Think?
Cyber Security and BAs
Process Models: Swim Lane
Visual Models: Data Flow Diagrams
Visual Models: Decision Tables
Visual Models: Functional Decomposition
Visual Models: Overview
Visual Models: Process Models
Visual Models: Scope and Context Diagrams
Visual Models: Sequence Diagrams
Visual Models: State Diagrams
Visual Models: User Story Maps
Visual Models: Value Stream Map
IIBA Bavatars: Data Analysis
IIBA Bavatars: Visual Thinking
IIBA Bavatars: Voice of the Customer
IIBA's Bavatars: Communication
IIBA's Bavatars: Innovation
IIBA's Bavatars: Process Modeling
Ambiguous Statements
BA Guides & Standards
Be a Problem Solver Not a Spec Writer!
Creating a Complete Requirements Package
Good Requirements Are…
High-Impact Questions
Is Domain Knowledge Important?
Mushy Words
Non-Functional Requirements
Options and Alternatives Analysis
Package Cloud Projects
Product Scope vs Project Scope
Requirements for Reports
System vs Requirements Documentation
The Right Questions at the Right Time
Using a Decision Log
Reusable Requirements Fact or Fiction?
Using a Traditional Status Report
Templates, Samples, Job Aides, Infographics!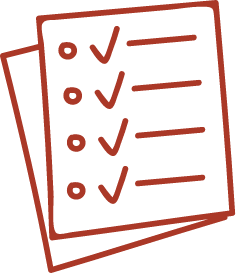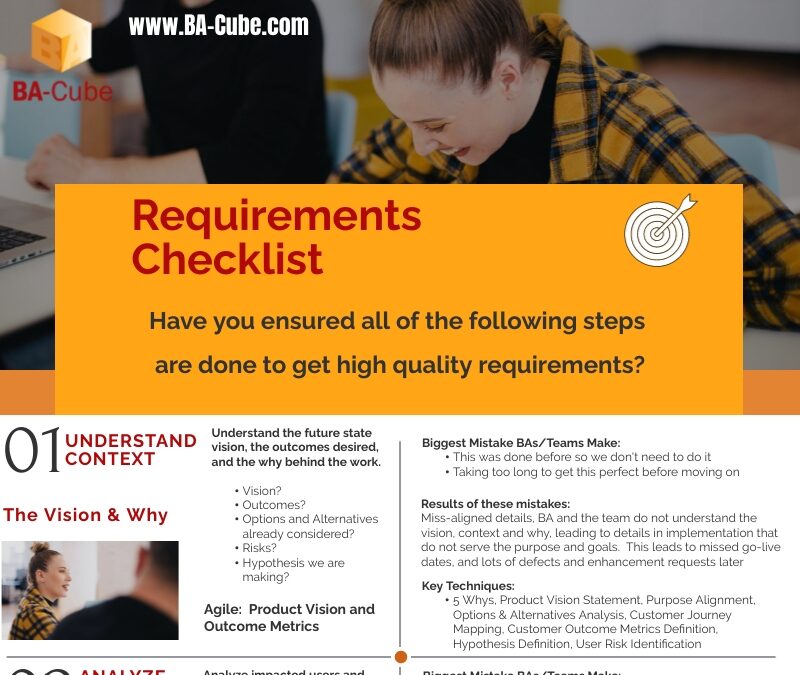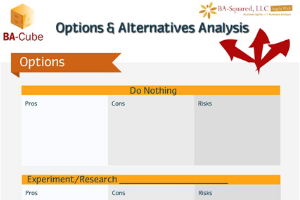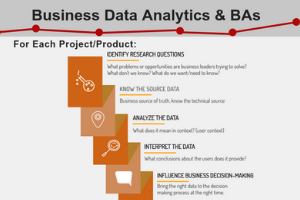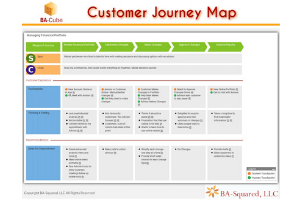 Agile Business Analysis
User Story and Use Case Side by Side
Sample User Stories Fixed
7 Ways BAs Add Value to Agile Teams
3 Agile BA Myths We Need to Challenge
5 Levels of Agile Planning
PO/BA Compared to Pro Golfer and Caddy
Agile BA Assessment Checklist
Agile Documentation Tips
Agile Product Ownership E-Book
Agile Status Report
Backlog Board
Benefits of Agile
Definition of Value Checklist
Feedback Loop
Outcome Canvas
Outcome Statements
PO & BA Collaboration Model
Product Vision Canvas
Product Roadmap Canvas
Roadmap Template
The State of Agile Analysis 2019
Top 10 User Story Tips
User Story Canvas
Vision Metrics
Eight Agile Concepts
Agile Executive Action Guide
Agile Value Checklist
Design Thinking
Customer Journey Map Template
Discovery & Delivery – New!
Customer Journey Map
Design Thinking
Empathy Mapping
Digital BA
7 Artificial Intelligence Capabilities
Experimenting With Your Hypothesis
Hypothesis Decomposition
Hypothesis Template
For BA Leaders
Top Performing BAs and POs
BA Practice Metrics
Interview Preparation Guide
Leader's Guide to Interviewing BAs
Facilitation Strategies and Techniques
3 Step Facilitation Model
Categories for Categorization
Speedboat
Virtual Meeting Planner
What, So What, Now What
Workshop Planner Sample and Template
Virtual Meeting Planner
Managing Relationships
Building Relationships: The Meet Up
Building Relationships: The Mindset
Ways to Engage Stakeholders
Straight Up BA
Checklist: How to start on a new team/project already in flight?
5 Key Differences of Requirements w/ Package/Vendor Software
Change Management Techniques 
Requirements Checklist
5 Secrets To Asking The RIGHT Questions
Data and Reporting Analysis
Modern Analysis Values
Decision Tables Combo Templates
Full-Stack BA
Use Case Template/Reference/
Sample
Create Your BA Mission Statement
The Business Data Analytics and BA Role
BA Cyber Security
BA Success Formula
BABOK v3 Task to Technique Cross Reference
Business Requirements Document
Decision Log
Fit Gap Template
High Impact Questions – 1:1 Conversations
High Impact Questions – Processes and Details
High Impact Questions – Sponsors and Stakeholders
High Impact Questions – Users and SMEs
Managing Ambiguity
Mushy Words
Non-Functional Requirements Cheat Sheet
Options & Alternatives Analysis
Package Software Approach Summary
Package Software Tasks
Reporting Requirements Job Aide
Requirements Workshop Planning
Scoping Checklist
Swim Lane Process Model
Traditional Status Report
Visual Models
What We Need to UNLEARN
Agile Business Analysis
On Agile Teams Analysis happens, Agile BA or not!
BAs and POs: Are You Asking the Right Questions? – New!
Agile Requirements Documentation – What's Really Needed?
Three Ways to Apply an Agile Mindset to Any Team
Four Agile Metrics Every BA and PO Should Know
Four Habits Agile Teaches That We Can All Refocus on in 2016
Four Ways to Boost the Impact of Agile BAs
Five Reasons Agile BAs Are Critical To An Agile Team
Seven Hot Topics from Agile 2017 in Orlando
Nine Things We Should Talk About: Agile 2016 Conference
Agile Requirements Documentation – What's Really Needed?
Agile: It's More Than User Stories
Avoid These Four Things During Your Daily Stand Up
FREE Agile Product Ownership eBook!
Great Things Happen When BAs and POs Become BFFs
Is Your PM/BA Collaboration a Pressure Cooker?
Is Your Roadmap a Joke?
Planning for Requirements in Agile
Struggling with Acceptance Criteria?
Top Seven Things BAs Should Be Doing On An Agile Team
Value-Driven Planning Brings Context to Iterations
We're Agile, You're Agile, Why are We Struggling?
What Does a BA Practice Look Like in Agile?
What Happens When You Don't Have a Product Vision?
What is BUSINESS Agility?
Your Backlog Might Be Broken If….(Part 1)
Your Backlog Might Be Broken If…(Part 2)
User Stories
Acceptance Criteria – Is It Your Team's Pain Point?
Agile Teams Need More Than User Stories To Build Great Products
Common User Story Mistakes and How to Fix Them
10 Point User Story Evaluation Quiz
User Stories: You Don't Have to be Agile to Use Them!
User Stories: Your First Step Should Always Be Back
Struggling project? Maybe it's your user stories
User Stories And Use Cases – Don't Use Both
Design Thinking
Design Thinking & User-Centered Design: A Lens for Modern Requirements
Digital BA
6 Ways BAs Can Be The Bridge Cyber Security Needs
4 Tips for AI and Digital Transformation Analysis
4 Tips for Writing Artificial Intelligence Requirements
4 Key Tips for AI and Digital Transformation Analysis
Facilitation Strategies and Techniques
Bad Meetings and Bad Dates Look the Same!
Better Brainstorming & Agile Requirements Learning Circle
Boost your brainstorming skills, inspire creativity!
Boring Meetings?
Brainstorming: We Have Lots of Ideas, Now What?
Can Conference Calls be as Effective as Face-to-Face Meetings?
Do you need to be face-to-face to collaborate?
Get past the parking lot, make the move to strategic facilitation!
Good Meetings Create Shared Understanding, Not BRDs!
Hear Crickets on Conference Calls? Three Participation Tips
Multitasking kills creativity and collaboration
Virtual Requirements Meetings: Painful or Practical?
What Can Aerobics Teach us About Collaboration?
BA Leaders
Upskilling the team in the "new normal"
The Top 10 Business Analysis Skills For 2020
The Top Professional Skills Today – How You Can Leverage Them as a Modern BA!
Managing Relationships
Stakeholders: 5 Ways to Get Their Attention
Sticky Situations: How do Business Analysts Influence Ethics?
Straight Up BA
6 Ways Business Analysts and Product Owners Contribute to Successful DevOps​
How do BAs and Pos Figure Out WHAT SKILLS to Learn and Develop?
4 Ways Great BAs Get The New Year Started Right!
Positioning the BA Role for Value in Your Organization
5 Key Skills to Move from BA to Product Owner
4 Critical Things To Collaborate With the PO Successfully
The Top 4 Things BAs need to learn to work effectively on Today's projects
What is a Modern BA? – New!
Introducing Pathways – Ready…Set…START! – New!
Remote Work Is Here To Stay, How Should My Goals Change? – New!
Three Key Differences for Business Analysis and Business Data Analytics
Two Requirements Tasks You're Spending Too Much Time
2013 Innovation Trends
2014 BA-Squared Wrap-Up, Looking Forward to 2015
3 Business Analyst Skills that Add Value Every Day!
3 Reasons Value Should Be At The Center of A Project Triangle
3 Spring Cleaning Tips for Your Mental Workspace
3 Tips to Modernize Your Requirements!
3 Ways to Bring Agility into Your Requirements Practice
4 Business Analysis Resolutions for 2019
4 Hot Topics from the Orlando BBC Conference
4 Roadblocks That Prevent You From Delivering Value To Customers
5 High-Impact Questions Every BA Should Be Using!
5 Lessons from Working with Agile and Waterfall Teams
5 Things The Legendary Musician/Artist Prince Taught Us
7 Habits of Highly Effective Business Analysts
Adapt to Every Project Environment With These 3 Tools!
Analyst or Therapist? BAs Need to Stir Up the Animals!
Are You Building The Past Or The Future?
Are you Walking Dead with Documents?
Be curious. Even mundane tasks will get more interesting.
Bridging the Gap Between Waterfall and Agile
Bring Your Requirements Practices Out of the '80s!
Straight Up BA Cont…
Building a Speedy and Responsive Delivery Approach
Building Better Requirements
Can You Develop Standards That Embrace Both Approaches?
Create a culture of innovation
Customer Obsession – You Better Have It!
Diving Into Unofficial Roles and Responsibilities of the BA
Do Tight Timelines Make You Feel Like a Document Dispenser?
Do You Have the Top Skills Companies Need?
Don't Force Typical Templates on Packaged Software Projects
Don't Forget the A in BA – Make Time for Analysis!
Don't Plan Too Much: Make Room for New Opportunities
Don't Skip the Analysis When Moving to Shorter Iterations!
Every Project is Like a New Year
Evolution of the Requirements Mindset!
Feature Thinking Vs Value Thinking: What's The Difference
Find the Duct Tape and Keep the Wine Glasses
Get Off The Documentation Hamster Wheel
Start Your Requirements off Right In 5 Steps!
Help! I Don't Have Time To Do Requirements Right!
How You Add Value: Should BAs be Paid on Commission?
Improve Your Requirements by Avoiding These 4 Words
Is rework the key to innovation?
Is Your Brain Like Concrete or a Caterpillar?
Lean Requirements Practices = More Value, Less Waste
Why You Need to Modernize Your BA Skillset
Modern Requirements – Reality or Virtual Reality
Roll the Dice: A lesson from Las Vegas
Survival Guide: Bouncing Back And Forth: Agile AND Waterfall
The BA Role is Changing! Are you Keeping Up?
The BA Role: Has it Really Changed in the Last 15 Years?
The BA Accountability in Scope Creep & Changing Requirements
The Devil is in the (Non-Functional) Details
The Shift To Modern Requirements
Think Like a Globetrotter
Three BA Metrics You Should Be Tracking
Three Tips for Springing Forward
Time to Pause
Top 6 Critical BA Skills For The Future (And Today!) – Part 1
Top Six Critical BA Skills For The Future (And Today!) – Part 2
Turn and Face the Strange Changes!
Want Faster Requirements? Build Them Like a Snowman!
What are the Best BAs Doing Differently?
What is Your Modeling Mindset?
What's Your 2015 Light bulb Moment?
What's Your Secret Weapon Battling Bad Requirements?
Why We're Talking About the BA/PM Role on Agile Projects?